Corporate Training With A Stunning Difference!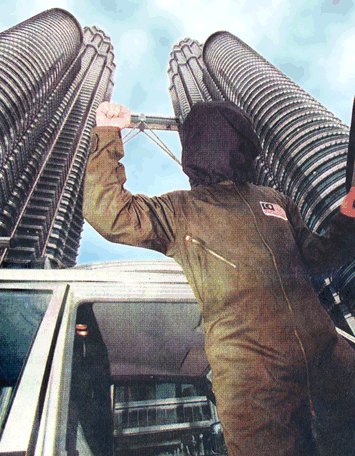 The Incredible Blindfold Drive Event
Sunday January 24th, 1999, 9.00am:
Shaun Tan, one of the Principal Consultants of Odyssey Training Consultancy, raising his arm in triumph after he had driven a Pajero 4-wheel drive from Dataran Merdeka (Merdeka Square) to the Kuala Lumpur City Centre Twin Towers, Malaysia, a distance of about 5km, while wearing a thick blindfold AND a thick hood over his head both of which blocked off his vision completely!
Over 40 policemen were involved in the event, coordinating the numerious traffic junctions on the 5km route perfectly on a beautiful Sunday morning in a great display of teamwork so that the Blindfold Drive Event could proceed smoothly. Local celebrity Angeline Tan added a touch of glamour to the event by bravely sitting in the passenger seat during the drive. She was totally silent throughout the event in order for Shaun to concentrate fully on the difficult task ahead, which he did, with stunning results!
You can now discover the amazing principles behind the Blindfold Drive based on the untapped power of the mind that can all be used to SIGNIFICANTLY improve your workforce's contribution, performance and effectiveness in the area of Teamwork (Team Building), Leadership & Supervisory Skills, Sales & Marketing Techniques, Motivation, Customer Service Skills and more!
Make your staff EXCEL in ways they've never done with Odyssey Training Consultancy. Because, as has been proven without a doubt, peak performance starts with the mind.
And Odyssey Training Consultancy is the No.1 firm for the training of your mind for peak performance!
---
Odyssey Power Tips
Direct To You, Free!
Subscribe to Odyssey's twice-monthly, "Odyssey Power Tips" newsletter containing powerful tips and advice on how your workforce can achieve better performance in the areas of self-motivation, leadership, supervisory skills, team work, sales and marketing techniques and customer service tactics. Simply fill in the boxes below and click the gray button!